ReportMakerPro Features
ReportMakerPro Features Listing
Powerful Image Tools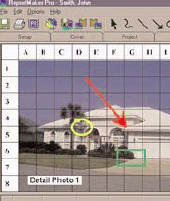 Import digital images with a simple click of a button.
Quickly draw on your images with several easy-to-use drawing tools including grids, lines, arrows, circles, rectangles, text and highlight. Adjust color, size, and other attributes of any drawn object.
Easily adjust image qualities such as brightness, contrast, and color.
Zoom in or out; zoom to any mouse selected area.
All above features leave your original images intact.
Rotate photos.
With the desktop version, all of the above actions can be done without affecting your original image file.
Easily Create Custom Pages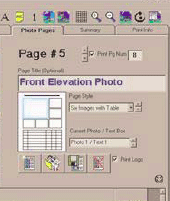 Choose from several built-in page formats: from 1 to 12 images per page plus text or tables.
Save custom pages for future reports.
Create custom pages in your favorite word processing program and include them in your report with a simple click in a checkbox (must be in RTF format).
Unlimited number of custom pages.
Template Development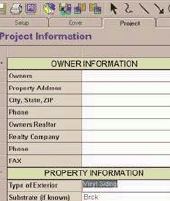 Develop customized templates for almost any type of report.
With Flexgrids, you can develop information tables which will allow for both easy input and professional presentation of data. Flexgrids can be modified several ways -- such as adding/deleting rows or columns, resizing, changing colors, and more
Several types of drop-down lists are available including look-up lists and fill-in-the-rest-of-the-row lists.
Spell Checker
Word Processing Tools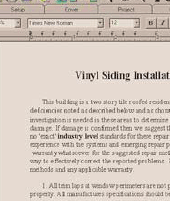 Select fonts, size, color, bold, italics, indents, bullets and more.
Text Library - Bring in commonly-used sentences and paragraphs to your report with a button click.
Supports all windows clipboard features including cut, copy, and paste. Import text from most any program.
Spell Checker
Print Previewer
Create PDF reports for fast and easy email.